Toro Multi Pro® 1750 - 175 Gallon (662 L) Capacity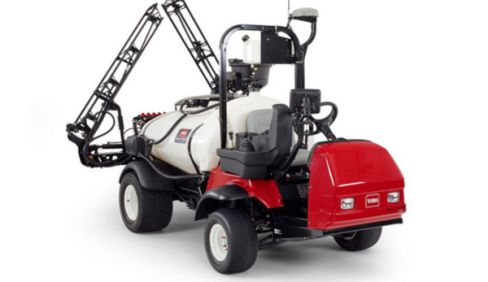 Double tap to zoom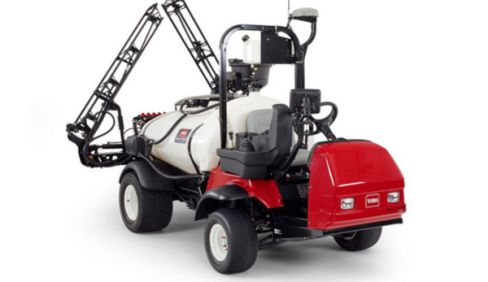 Features
Rugged Spray Booms
The triangulated truss design provides protection to nozzles
Transport cradles with breakaway capability secure wing booms during transport
Lift and lower booms without leaving the seat
Spring-loaded breakaway system returns boom to spray position after an impact during forward or reverse travel
Reduce damage to trees or other objects with specially rounded boom ends
Three section 20.5' (6.25 m) boom width
Quick Find™ Console
The Quick Find™ Console helps the operator intuitively find boom and actuator switches with the palm of their hand and places command of all key vehicle and sprayer systems at the operator's fingertips for ease-of-use and improved control. The Info Center display and the analog pressure gauge, which are convieniently located just above the boom section and actuator switches, keeps all key sprayer operation data in the operator's line of sight.
Chemical Tank
Elliptical tank design prevents chemicals from building up in 'dead spots'. Square tanks with interior ledges can lead to misapplication or residual chemicals left in the tank after the spray application. The tank incoporates a 16" side-offset fill well for easy access when loading chemicals. Durable polyethylene material won't crack, dent, rust, chip or peel. Three, 30-degree, side-mounted, agitation nozzles continuously 'roll' the tanks contents. Agitation nozzles are serviceable from outside of the spray tank.
Hill-Assist
To help prevent the 1750 from rolling backwards when parked on an incline, the hill-assist feature holds the vehicle while the operator releases the clutch pedal.
Ground Speed Proportional
Application rate remains consistent even when ground speed varies. If the operator speeds up, the pump speed is increased automatically which increases pump pressure. When the operator slows down, the pump pressure decreases accordingly. In other words, by directly linking the pump to the transmission, the system helps to ensure that fluctuations in ground speed will not affect application rate.
Six Diaphragm Pump
An industry exclusive! This oversized pump satisfies the highest spray rates while simultaneously supplying aggressive agitation flow. The self-priming, positive displacement design means the pump can be run dry without damage. Its dry sump means there's no risk of oil/lubricant contaminating the spray application.
Specifications
Engine
25hp (18.6kW) Kohler®, CH740 Command series, twin cylinder, air-cooled, 4 cycle
Boom System
18.5' (5.6 m) three section, triangular truss-style open booms
Ground Speed
Forward 0 – 11.5 mph (0-18.5kph); Reverse 0 – 2.5 mph (0-4kph)
Height
97" (246 cm) with booms folded in cradles
Length
140" (356 cm) with booms folded in cradles
Nozzle Type
Triple turret mount, Quick-disconnect with diaphragm check valves.
Seat
Single high back cushion seat standard with manual position adjustment w/seatbelts
Spray Pump
Hardi 364/5.5, 6-diaphragm positive displacement w/1" (2.5 cm) input shaft; input speed 300~860 rpm, Flow rate of 45 gpm (170.3 lmp) @ 40 psi (860 rpm).
Steering Controls
Fully hydraulic: steering wheel turns, lock to lock: 3.5
Tank Capacity
175 gallons (662 L)
Tires
Front: Kenda K404 smooth (treadles); 20x10-10; Rear: Kenda turf tread; 24x13-12
Transmission
3 speed forward, 1 reverse
Weight
2200 lbs. (998 kg) shipping weight
Width
70" (178 cm) with booms folded in cradles