Toro Groundsmaster® 4000 Series 11ft (3.3m) Cutting Width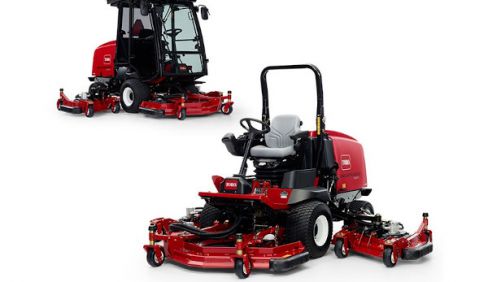 Double tap to zoom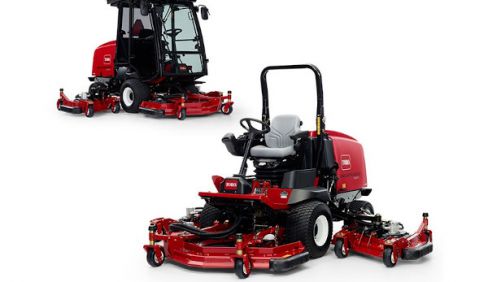 Features
Reliable Powertrain
The engine throttle-by-wire makes it easier to get to high or low idle and the electronic isochronous engine governor allows for a faster engine recovery time with no engine droop. Electronic Controlled Hydrostat allows for Smart Power to work as well as the electronically controlled pedal stop. The hydrostat allows the supervisor to set the maximum mowing speed of their operator. There is no mechanical link between the hydrostat and operator platform, reducing noise and vibration for the operator. The two Speed Drive Motors improves hydraulic efficiency allowing the mower to operate at 4WD in mow and transport improving fuel economy. Auto-idle will drop the machine down to low idle if the machine sits idle with the decks off for 5 seconds. This will save fuel when the operator does not remember to go down to low idle if sitting stationary. Automatically goes to high idle if out of neutral or PTO turned on.
Smart Power™ Traction
Smart Power Traction allows even an inexperienced operator to achieve a consistent cut, even on hills and thick patches. By automatically adjusting ground speed when encountering heavy cutting conditions, optimum blade speed is maintained.
Versatility
Accessories for added value and versatility: cab with ROPS, rotary broom, 2-stage snowthrower, debris blower, 2-post ROPS, A/C mounting kit, speed control, and road package kit.
SmartCool™ System with Auto-Reversing Cooling Fan
Variable speed, temperature actuated reversing fan. Blows chaff off intake screen to help reduce overheating. Big time saver which reduces that amount of times an operator has to stop and exit the unit to clean the back hood.
Cruise/Speed Control
Lets you set traction unit for a continuous operating speed with automatic override when operator moves drive pedal or operates brakes.
Major Mowing Capacity
The Groundsmaster® 4000-D/4010-D delivers 55 hp (41 kw). With so much power at your disposal, it's easy to digest even a large amount of wet, thick grass. With its unmatched engine torque and patented hydraulic motors that directly drive spindles on each deck, the 4000-D/4010-D delivers power where you need it most to cut tough grass. Plus, the shallow deck design forces quicker clipping dispersal, allowing the decks to accept more grass on a faster basis.
Operator Comfort
Operators will like the Groundsmaster® 4000-D/4010-D because it is amazingly quiet. Its low engine speed, low-noise technology gear motors, and a variable-speed cooling fan clutch all contribute to greatly reduced noise levels. Plus, amenities like air ride seat suspension, a multi-size beverage holder, 12-volt power outlet, and a portable radio holder make work more comfortable.
Durable Design
Heavy-duty welded steel decks and frames provide extra durability and long life. Each wing deck features a bi-directional, patent pending, impact absorption system. If a deck hits an object, a spring-loaded cylinder allows the deck to flex on impact, protecting deck components so you have less down time and more productivity.
Easier Maintenance
The Groundsmaster® 4000-D/4010-D mowers are easy to service and requires fewer parts to stock. That's because the four drive belts, and the deck motors, blades, spindles, idlers, and spindle pulleys are all interchangeable. While rear discharge decks come standard, you can easily convert to Guardian® Recycler® decks which offer improved clipping management and additional safety.
Nimble Maneuvering
The impressive trimming capability means you can get around even the smallest object. The rare ability to mow a 0" uncut circle - without wheel brakes - allows you to easily mow striping patterns without leaving any grass uncut. Smooth turning is made possible by a tight 55.5" (141 cm) wheelbase and an inner, rear-steering turning angle of 53.5 degrees.
Reliable Traction
There's no need to worry about mowing around objects while traversing hills, even in wet terrain. The parallel hydraulic flow between front and rear wheels assures full-time 4-wheel drive. And the individual wheel brakes provide effective traction assistance on wet turf.
Superb Trimming
In addition to effectively mowing a 62" to 11' (157.5 cm to 3.4 m) swath with its fast wing lifts, the Groundsmaster® 4000-D/4010-D offers incredibly tight trimming capabilities. It allows you to trim how you want with one, two, or all three decks engaged, depending on the situation. The 4000-D/4010-D also features a unique, patent pending, parallel hydraulic traction system in forward and reverse that makes it much easier to trim around a tree or object without scuffing even while traversing a hill.
Specifications
| | |
| --- | --- |
| Engine | Yanmar® turbo diesel 55 hp (41 kW) |
| Fuel Capacity | 19 gal (72 L) diesel fuel |
| Mowing Speed | 0 - 8.3 mph (0 - 13.4 km/h) |
| Transport Speed | 0 - 16.2 mph (0 - 26.1 km/h) |
| Cutting Width | 11' (3.4 m) Width of Cut |
| Engine Displacement | 127 cu. in. (2.1L) |
| Weight | Approx. 4,205-4,759 lbs. (1907-2159 kg) |
| Warranty | 2-year limited warranty |