Toro 32" (81 cm) Pistol Grip (30632)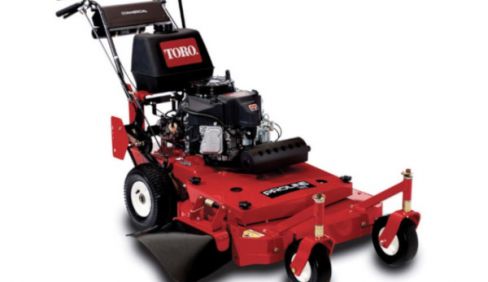 Double tap to zoom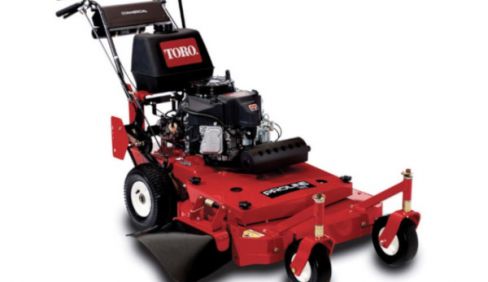 Features
Pistol Grip Control System
The individual handles make it easier to control tracking long straight lines. The release to go interlock, reduces operator fatigue.
Rugged Deck Design
High-capacity 7/10 guage deck delivers unsurpassed strength, a superior cut, and increased productivity in extreme mowing conditions. Easily handles the most demanding conditions and resists damage from impacts and abrasion. The 5" deep deck features 8" aluminum spindles and a rubber discharge chute.
Rubber Discharge Chute
High performance rubber discharge chute allows for close trimming without damaging chute or landscape structures. Patented design provides exceptional clipping dispersion.
Extended Life Drive System
Extended life drive system with Husqvarna Peerless 700 series transmission, featuring a 9-spline drive coupler.
Rugged Spindle Assembly
Rigorously tested to ensure that it can survive impacts that would destroy lesser spindles. The cast iron housing, with a massive 9-3/8" (23.8 cm) diameter base, absorbs impact loads and distributes them across a broader area of the robust deck shell. Built with maintenance-free sealed ball bearings.
A Flat Crisp Cut with Precision Blades
(.250) thick precision blades resist flexing to provide a flat, crisp cut. High-strength, heat-treated alloy steel survives impacts and provides resistance to the rapid wear commonly associated with abrasive conditions. Options include Recycler® and Atomic® mulching blades, medium sail Bahai blades, and low sail sand blades.
14.5 HP Kawasaki® FS481V 603cc
5-Speed gearbox with 9 spline coupler
Fast 6.2 mph (10 km/h) ground speed
Specifications
Engine

14.5 HP* Kawasaki® FS481V 603cc

Fuel Capacity

5 gallons (19 L)

Height of Cut 
 

1" to 4-1/4" in 1/8" increments (2.5 cm to 11 cm in 3 mm increments)

Number of Blades 
 2
Starter 
 

Recoil

Drive System 
 

5-Speed Transmission

Mulch, Bag, Side Discharge 

Side-discharge standard

 
Air Filter 

2-Stage Air Cleaner

 
Blade Tip Speed 

18,000 ft/min (5,486 m/min)

 
 Brake System

6" (15 cm) Band Brakes

 
 Caster Tires

9" x 3.50-4" (23 cm x 9 - 10 cm) Flat-free

 
Deck Design 

32" (81 cm) Side Discharge

 
Drive Tires 

13" x 5.00-6" (33 cm x 12.7 - 15 cm)

 
Ground Speed

6.2 mph (10 km/h) fwd; reverse assist

 
Height 

41" (104 cm)

 
Length 

78" 198 cm)

 
Steering Controls 

Pistol Grips

 
Tires 

13" x 5" (33 cm x 12.7 cm)

 
Transmission 

5-speed gearbox w/ 9 spline coupler

 
Width 

32.8" (83 cm) w/chute up

 
Weight 

402 lbs (182 kg)

 
Disclaimer

*The gross horsepower of this engine was laboratory rated by the engine manufacturer in accordance with SAE J1940. As configured to meet safety, emission, and operating requirements, the actual engine horsepower on this class of mower will be significantly lower.