Toro GrandStand® 36" (91 cm) 15 HP 603cc (74534) (79534 CARB)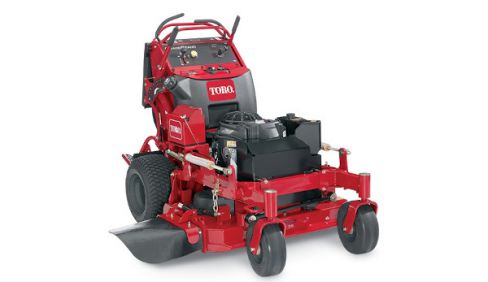 Double tap to zoom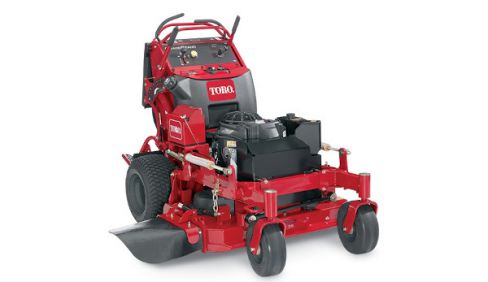 Features
Fatigue-Reducing Suspension
The revolutionary Flex-Ride operator platform suspension* keeps operators fresh, resulting in less fatigue and higher productivity throughout the day. Best of all, the suspension system is self-compensating for operators of different sizes.
2-in-1 Versatility
In situations where the operator may want or need to walk, Toro's foldable operator platform instantly converts the GrandStand to a walk-behind. When it's time to ride, just lower it back down - saving time, money and trailer space by eliminating the need to switch from one mower to another.
Stand-on Mower Productivity
The ability to turn easily, get in and out of tight spaces, and quickly get on and off the mower to pick up debris or move obstacles all contribute to less time spent per property. The exceptional visibility of the GrandStand protects the operator, the mower and the property. The operator is better able to steer clear of obstacles, identify upcoming changes in terrain and easily pass beneath overhanging branches.
Exclusive TURBO FORCE Deck
High-capacity TURBO FORCE decks deliver unsurpassed strength, a superior cut, and increased productivity in extreme mowing conditions. Equipped with a patented adjustable baffle, TURBO FORCE decks can be fine-tuned in order to conquer changing turf conditions.
Patented Adjustable Baffle
Allows operator to achieve maximum cutting performance by fine-tuning deck to conquer changing conditions, unique job sites or different times of the season. In extreme conditions, the baffle can be opened in order to conserve power and achieve faster mowing speeds. In less demanding conditions, the baffle can be closed to yield micro-sized particles and maximize discharge velocity.
The Industry's Toughest Spindle Assembly
Toro's rugged spindle assemblies survive impacts that would destroy lesser spindles. The cast iron housing, with a massive 9-3/8" (23.8 cm) diameter base, absorbs impact loads and distributes them across a broader area of the robust deck shell.
Traction and Handling
The wide stance and optimal weight balance of the GrandStand enhance hillside stability and control. Because there are no restrictions to limit operator motion, operators can shift weight as needed to further enhance the performance of the machine.
Big on Features, Not Size
The GrandStand conserves space to get more machines on your trailer or allows for a smaller trailer and a lighter load. And the unique, foldable operator platform makes the product even more compact for transport or storage. Some property owners have negative reactions to larger, heavier-looking mowers, and are concerned that their lawns may be damaged. With the sleeker Toro GrandStand, that problem is eliminated.
A Flat Crisp Cut with Precision Blades
(.250) thick precision blades resist flexing to provide a flat, crisp cut. High-strength, heat-treated alloy steel survives impacts and provides resistance to the rapid wear commonly associated with abrasive conditions. Options include Recycler® and Atomic® mulching blades, medium sail Bahai blades, and low sail sand blades.
Smarter design in a bull-nose bumper.
7-gauge bull-nose bumper not only protects against frontal impacts, but also contains an integral underskirt to minimize blowout of debris and dust. The bottom, leading edge of the deck is raised 1/4" (6 mm), allowing grass to stand more upright when entering the cutting chamber, ensuring a level cut. Leaf "plowing" during spring and fall clean-up also is significantly reduced.
Rubber Discharge Chute
High performance rubber discharge chute allows for close trimming without damaging chute or landscape structures. Patented design provides exceptional clipping dispersion.
Heavy-Duty Muffler Guard
Heavy-duty, 7-gauge muffler guard protects muffler against damage.
Flat-free, semi-pneumatic caster tires
Flat-free, semi-pneumatic caster tires
Specifications
Engine
15 HP* (11 kw) Kawasaki® FS541V 603cc
Fuel Capacity
Gasoline - 7.8 gallons (29.5 L)
Cutting Width
36" (91.4 cm)
Blade Tip Speed
18,500+ ft/min (5,640 m/min)
Blade Type
.25" (.6 cm) heat-treated steel
Carrier Frame
3" x 1.5" x 12 gauge (7.6 cm x 3.8 cm x 12 gauge)
Caster Tires
11" x 4" - 5" (28 cm x 10.2 cm - 12.7 cm) flat-free semi-pneumatic
Clutch
Electromagnetic
Controls
Twin lever
Deck Design
7-gauge 36" (91 cm) TURBO FORCE® with bull-nose bumper
Discharge Chute
Rubber
Drive System
Pumps (10cc/rev) & Wheel Motors (10 cir)
Drive Tires
18" x 8.5" - 8" (46 cm x 22 cm - 20 cm)
Engine Displacement
603cc
Ground Speed
8.0 mph forward (12.9 km/h)
Height of Cut
1" - 5" in 1/4" (2.5 cm - 12.7 cm in 6 mm) increments
Hour Meter
Standard
Hydraulic Fluid
Premium synthetic
Comfort Platform
Foldable Operator Platform with Suspension
Spindle Bearings
Maintenance-free
Spindle Housing
9 3/8" (23.8 cm) diameter cast iron
Weight
833 lbs. (377.8 kg)
Disclaimer
* The gross horsepower of these engines was laboratory rated at 3600 rpm by the engine manufacturer in accordance with SAE J1940 or SAEJ2723. As configured to meet safety, emission and operating requirements, the actual engine horsepower on these mowers will be significantly lower.