Toro FLEX800™ 35-6/55-6 Series Golf Rotors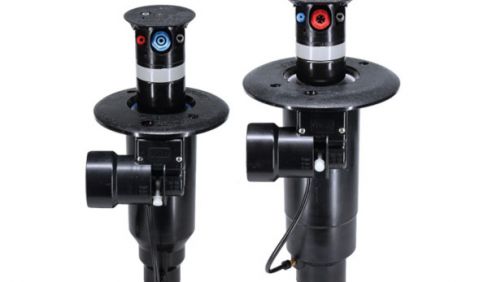 Double tap to zoom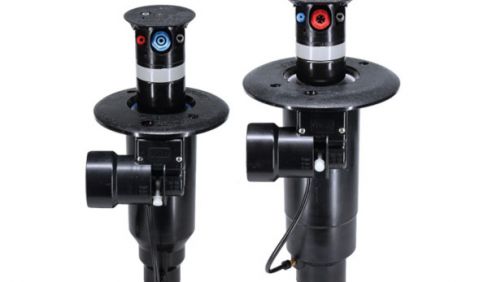 Features
Available in 1" (2.5 cm) inlet (835S) and 1 1/2" (3.8 cm) inlet (855S)
TruJectory™ Adjustment of the main nozzle—24 positions from 7°-30°
Arc Adjustment—40–330° and true full-circle in one
The Industries Largest and Most Flexible Nozzle Selection
TruJectory™ Adjustment of the main nozzle—24 positions from 7°-30°
From 7-30 degrees this patented feature in 1 degree increments puts water where you want it for maximum distribution uniformity. Adjust from the top of the sprinkler in seconds, wet or dry. This flexibility lets you tackle every obstacle on the course; wind, trees, bunkers, mounds and more.
Arc adjustment—40°-330° and true full-circle in one
One sprinkler for every location on the course. These unique sprinklers can be a full circle today and a part circle tomorrow, allowing you to simply and economically adjust the area of coverage to match your seasonal needs or meet water rationing mandates in seconds with no disassembly or additional parts required.
The Industries Largest and Most Flexible Nozzle Selection
With the industries largest selection of nozzles Toro sprinklers allow you to put the precise amount of water exactly where you need it.
Spike Guard™ Solenoid
With its 20,000 volt lightning rating, the industries highest, the Spike Guard™ solenoid has virtually eliminated the need for solenoid replacement in high lightning environments. And with 1/2 the amperage draw of traditional solenoids you can run twice as many sprinklers simultaneously, reduce the cost of wiring during initial installation or increase the distance from controller to sprinkler.
Indestructible Stainless Steel Valve Seat
Never gets damaged; never requires replacement; lower cost of ownership
Slow closing piston valve eliminates pressure surges
Slow closing piston valve eliminates the high pressure surges that can damage the sprinkler, valves and piping systems.
Selectable pilot valve
Allows pressure regulation adjustment at the sprinkler to 50, 65, 80 or 100 psi (3.4, 4.5, 5.5 or 6.9 bar).
Removable rock screen
Allows you to flush debris out of the piping system from the top of the sprinkler
Check Valve Standard
Prevents low head drainage, puddling and soil erosion
Effluent Water Models Available
Models are available with lavender marking to identify the use of non-potable water.
Ratcheting Riser
For fine-tuning arc adjustment after installation.
Back Nozzle Capable
Allows watering directly behind a part circle sprinkler
Electric Valve-In-Head Solenoid-835/855
Electric Valve-in-head solenoid 24V ac, 50/60 Hz
Specifications
Radius
42'-100' (12.8 - 30.5 m)
Flow
7.1-61.1 GPM (27 - 231 LPM)
Precipitation Rate
FLX35-6: Min = .37"/hr (.9 cm); Max = .53"/hr (1.3 cm) FLX55-6: Min = .43"/hr (1.1 cm); Max = .60"/hr (1.5 cm)
Trajectory
7°-30°
Arc
Full Circle; Part-circle Adjustable; Part/Full circle in One - 40°-330° and 360°
Recommended Operating Pressure
65-100 PSI (4.5 - 6.9 BAR)
Minimum Operating Pressure
40 PSI (2.8 BAR)
Inrush
60 Hz, 0.12 Amps
Holding
60 Hz, 0.10 Amps
Inlet
1" (2.5 cm) and 1 1/2" (3.8 cm) NPT, BSP, Acme
Pop-Up Height
3 1/4" (8.3 cm)
Body Height
FLX35-6: 10" (25.4 cm); 855S: 11 3/8" (28.9 cm)
Body Diameter
FLX35-6: 6 1/2" (16.5); 855S: 7 1/2" (19.1 cm)
Weight
FLX35-6: 2.98 lbs. (1.4 kg); 855S: 3.70 lbs. (1.7 kg)