Toro Greensmaster® e1021 Fixed/Flex™ Series - 21" (53cm) Cutting Width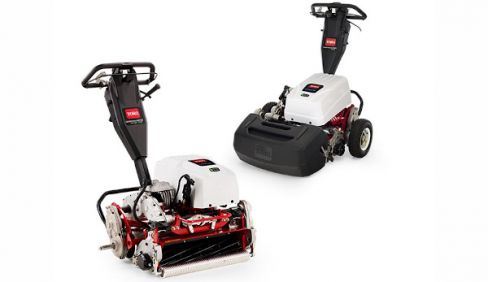 Double tap to zoom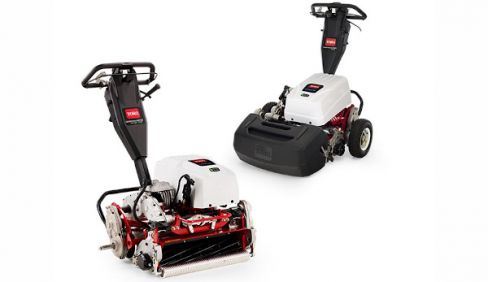 Features
Patented Flex Suspension Technology
Flex suspension allows the cutting unit to easily follow the contours of the green and delivers a superior quality of cut. (eFlex 1021 only)
Proven Lithium-Ion Technology
Battery capacity with ample power and run time to mow up to 35,000 sq-ft (over 3000 sq-meters). Balanced battery management and on-board electronics monitor the mower to automatically optimize battery life.
Tool-free Cutting Unit Removal
Changing cutting units is simple with the tool-free quick-change levers. Easily swap out cutting units in seconds and minimize maintenance downtime. (eFlex 1021 only)
EdgeSeries™ Reels
Dual Precision Adjustment (DPA) cutting units – featuring Toro's EdgeSeries™ reels combine to deliver a consistent, high quality cut and superior after cut appearance, while reducing maintenance with improved reel edge retention.
Easy-Reach Adjustable Throttle
All operator controls are within easy reach to perfect the mowing process, improve cut consistency, and enhance control – in normal and tight turn-around situations.
Telescoping Handle
Engineered to accommodate operators of different heights, for mowing in a natural upright position. Leads to less fatigue and a superior cut. Adjustable to 5 distinct handle positions.
Handle Isolation Mounts
Two rubber grommets eliminate minor oscillations in Height-of-Cut caused by walking strides. Delivers a consistent cutting height on each and every green for optimal playability.
Reel Engagement Lever
Convenient, easy to reach location to engage reel from the operator position.
Durable Gear Drive Transmission
Provides long life and best-in-class transmission durability. Lubricated for life, no grease points.
Dual Function Bail
A single bail combines safety and ease-of-operation. Convenient operation allows the mower to slow down or come to a full stop during turn-arounds without disengaging traction to line up for next mowing pass. Also ideal when using turn-around mats to preserve collar health.
High/Low Clip Rate Knob
Clip frequency can easily be changed in the field to mow the perimeter, collars etc. The quick-change feature also can be locked out for added control.
Traction Release Lever
Disengage the traction with a simple lever twist. Getting around the shop has never been easier!
Specifications
| | |
| --- | --- |
| Power | Lithium-Ion battery pack – nominal 50.4-Volt 26.7 A-Hr (42 – 56 volt, 1.345 kW-hr) with integrated battery management system utilizing CAN communication with the machine controller and charger. Single battery affixed to unit and charged onboard. Brushless permanent magnet DC motor with integral motor controller and helical gear reduction. |
| Mowing Speed | 2.0 to 3.5 mph (3.2 to 5.6 km/h) |
| Cutting Width | 21" (53 cm) |
| Height of Cut | (eFlex) For Greens: (Spacer Position One) 0.062" to 0.250" (1.5 mm to 6 mm) For Tees: (Spacer Position Two) 0.125" to 0.375" (3 mm to 9 mm) High Height of Cut Kit: 0.375 to 1.00" (9 mm to 25 mm) |
| Number of Blades | 8-blade, 11-blade, and 14-blade cutting units available |
| Drive System | Dual position traction drum with positions for contour following or forward weight bias at higher heights of cut. |
| Certification | Designed in accordance to ANSI/CE/WEEE/ROHS/C-TICK. |
| Weight | (e1021) 240 lbs. (109 kg) or (eFlex) 292 lbs. (132.5 kg) |