Toro 100" Reelmaster® 3555/3575 Mower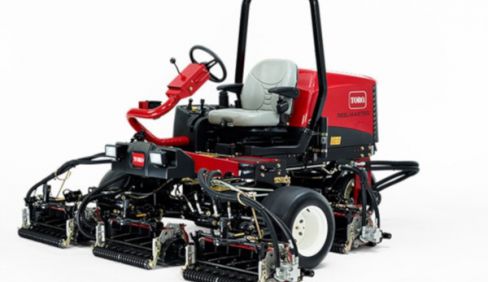 Double tap to zoom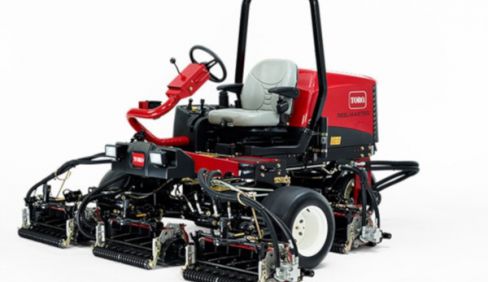 Features
Engine Efficiency
Powered by a 24.8 hp (18.5 kW) Kubota diesel engine. The Reelmaster 3555-D and 3575-D provides plenty of power to climb hills, even while operating groomers and rear roller brushes, yet it uses less fuel per acre than a traditional fairway mower.
Quiet Operation
The Reelmaster 3555-D & 3575-D has a quiet, low noise design with only 84 dB(A) at the operator's ear & 73 dB(A) at a 25-foot drive by.
Superior Traction
The innovative Series/Parallel 3-wheel drive system provides power to at least two wheels at all times. The result is impressive traction in hilly and wet conditions, and minimal wheel slip so it's gentle on the turf.
Three Wheel Design
The three wheel design is highly maneuverable which maximizes productivity. Smooth, turf-friendly tires significantly decrease potential for turf tear in tight turns. The 100 inch (2.5 m) cutting width and up to 7 mph (11.3 km/hr) mowing speed make the 3555-D and 3575-D fast and effective.
Simplicity
The Reelmaster 3555-D and 3575-D utilize a common platform with other popular Toro mowers, which reduces operator training time and increases productivity.
Lightweight Design
With a weight that is 20 percent lighter than a comparably equipped Toro 4-wheel drive reel machine, the Reelmaster 3555-D and 3575-D provides the ideal combination of turf friendliness and productive performance.
EdgeSeries™ Reels
Dual Precision Adjustment (DPA) cutting units – featuring Toro's EdgeSeries™ reels combine to deliver a consistent, high quality cut and superior after cut appearance, while reducing maintenance with improved reel edge retention.
24.8 hp (18.5 kW) Kubota® diesel engine
3-Wheel Series/Parallel Traction Drive
100" (2.5m) Cutting Width
Ground Speed - Mowing: 0-7 mph (0-11.3 km/h) Transport: 0-10 mph (0-16.1 km/h)
Specifications
| | |
| --- | --- |
| Engine | 24.8 hp (18.5 kw) Kubota® 3-cylinder, liquid-cooled diesel engine |
| Mowing Speed | 0 - 7 mph (0-11.3 km/h) with mow limiter |
| Transport Speed | 0 - 10 mph (0 - 16.1 km/h) forward transport; 0 - 3.5 mph (0 - 5.6 km/h) reverse. |
| Cutting Width | 100 in (2.5 m) |
| Backlapping | Standard on-board |
| Cutting Units | Dual Precision Adjustment (DPA) Cutting Units |
| Height of Cut | 0.25" – 1.5" (6.4-38.1 mm) |
| Number of Blades | 8 and 11 blade |
| Reel Diameter | 5 in (12.7 cm) |
| Reel Length | 22 in (56 cm) |
| Traction Drive | Series/Parallel full time 3-wheel drive |
| Weight | Approx. 2,280 lbs. (1,034 kg) |