Sunflower 6610 Single-Section Vertical Tillage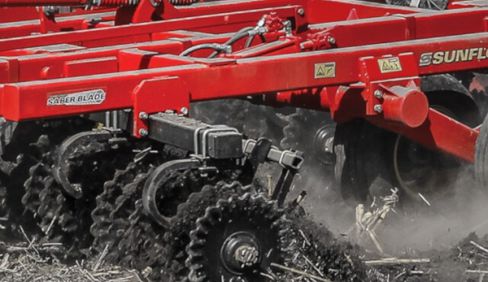 Double tap to zoom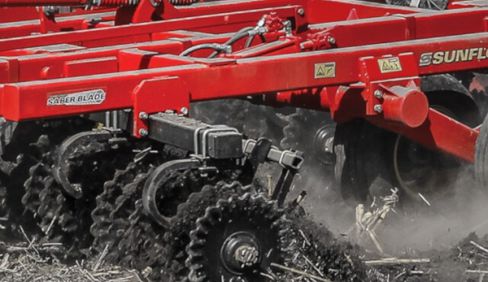 Features
SUNFLOWER SABER BLADE
This 22-inch-diameter blade has 25 soil-lifting flutes designed with scallops to maintain an effective cutting edge acre after acre. No grinding or rolling is necessary
TRUNNION-MOUNTED BEARINGS
The trunnion bearing features triple-lip seals that cannot be damaged by daily greasing and metal washers that protect the seals from being damaged by stocks or material wrapping around the gang shaft. As the C-Flex bearing standards move, the gang bearings constantly realign. There is never any wear between the bearing and the housing, always creating positive lubrication as a result.
C-FLEX BEARING STANDARDS
Sunflower's trunnion bearings provide positive alignment, eliminate side-loading of the bearings and the housing to ensure positive lubrication. As the C-Flex bearing standards move, the gang bearings have to constantly realign. 
SINGLE-POINT DEPTH CONTROL
Single-point depth control is conveniently located at the front of the machine for easy access. Large, easily read markings indicate the direction of movement for adjusting.
FRONT-MOUNTED GAUGE WHEELS
A trademark on all flexible Sunflower tools is front-mounted gauge wheels. This important feature prevents the front gangs of the wing frame from gouging, buckling or cutting deeper than the other gangs, promoting a level, ridge- or furrow-free field. The heavy-duty gauge wheels feature a five-bolt hub and 8x10 ply tire.
HYDRAULIC SELF-LEVELING HITCH
Level the disc frame from front to rear with Sunflower's hydraulic self-leveling hitch. This positive adjustment maintains a preselected setting regardless of the tillage depth. It features heavy-duty compression springs on each side of the pivot to cushion both front and rear gangs, which is important when crossing ditches or rough terrain.
MAINTENANCE-FREE UHMW
Sunflower 6630s are equipped with maintenance-free lift and wing pivot systems. These systems pivot on UHMW polymer sleeves, eliminating greasing in the lift, wing and gauge wheel pivots.
Specifications
| Model | Working width ft (m) | Transport width ft (m) | Transport height ft (m) | Weight lbs (kg) | Power requirements |
| --- | --- | --- | --- | --- | --- |
| 6610-11 (6 ga. blades) | 10' 7" (3.218) | 13' 1" (3.99) | 6' 0" (3.3) | 7,232 (3,280) | 9 to 11 hp/ft |
| 6610-11 (4 ga. blades) | 10' 8" (3.243) | 13' 2" (4.01) | 6' 0" (3.3) | 7,404 (3,358) | 9 to 11 hp/ft |
| 6610-14 (6 ga. blades) | 14' 3" (4.34) | 16' 9" (5.11) | 6' 0" (3.3) | 8,785 (3,985) | 9 to 11 hp/ft |
| 6610-14 (4 ga. blades) | 14' 4" (4.37) | 16' 11" (4.16) | 6' 0" (3.3) | 9,063 (4,111) | 9 to 11 hp/ft |