New Holland ProRotor.3226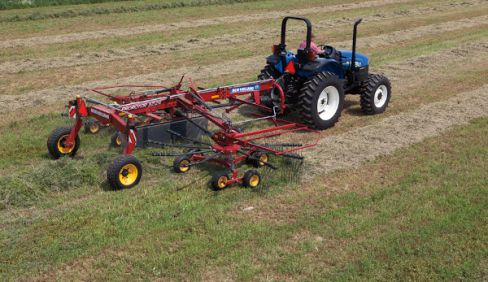 Double tap to zoom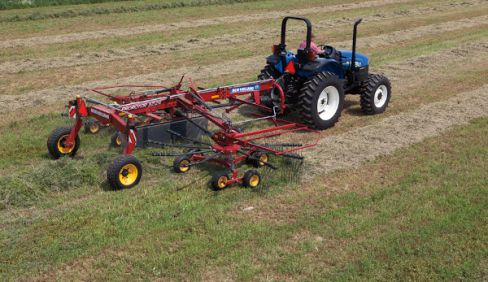 Features
PROROTOR™ 3226 DUAL ROTOR, CENTER-DELIVERY RAKE
The ProRotor 3226 rotary rake features a dual-rotor, center-delivery design and a large working width is perfect to bring together two swaths from your large mower-conditioner or self-propelled windrower head.
Raking up to 25 ft. 7 in. each pass ProRotor 3226 will make quick work of even your largest fields. The central chassis with rear-wheel steering allows this rake follow your tractor precisely forming long straight easy-to-bale windrows with gentle turns that are a ideal for large square and round balers.
Large hydraulic cylinders lift the rotors easily on headlands and the 85° maximum turning angle allows for fast maneuvering so you can work productively.
Rotors mounted on a pivot and rotor arms to flex in three-dimensions they follow ground contours close to rake even your rolling fields clean.
PROROTOR™ ROTARY RAKE GEARBOX
The heart of a rotary rake is the rotor gearbox, that's why ProRotor rake rotors are sealed and lubricated by oil for reliable and dependable service life.

Practically maintenance free rotor gearboxes do not require daily greasing of the tine arm assemblies so you spend less time greasing and more time raking
CURVED TANGENTIAL MOUNTED ARMS
ProRotor tine arms are mounted at a tangent placing the tines are in the optimum position gather your hay.

The smooth cam action and specially formed tine arm curve lift the tines quickly as hay is deposited into the windrow, resulting in an even and consistent windrow.

To handle your heaviest crops each tine arm is secured by a through bolt and clamping bolt for high-reliability.
LONG FLEXIBLE RAKE TINES
Individual raking tines are uniquely shaped to provide more equal tine spacing improving coverage to reduce missed crop.
With the capacity to handle the heaviest of crops individual tines have three spring coils for flexibility to protect the stubble from inadvertent contact.
Each tine is securely bolted and coils wrap around the tine arm, for extra piece of mind optional tine saver clips are available.
Specifications
ProRotor.3226 
Finish 
Paint
Powder Paint
Cutting Width/Discharge 
Crop Delivery
Center
DIN Width - Sing Swath or Min (m/ft)
23-Jul
DIN Width - Double Swath or Max (m/ft)
7.8/25.6
Dimensions 
Length (m/ft)
-
Transport Length (m/ft.)
5.9/19.4
Width (m/ft.)
2.8/9.2
Transport Width (m/ft.)
2.8/9.2
Transport Height w/ arms removed (m/ft.)
3.5/11.3
Height (m/ft.)
4.1/13.5
Capacity (hph/aph)
8.4/20.8
Weight (kg/lbs.)
1640/3616
Rotor Diameter (m/ft.)
3.4/11
Clean Swept Working Width (not noted on supplied tables) (m/ft.)
2 x 3.0/2 x 9.8
Cam Track Diameter (mm/in)
260/10.2
Minimum Tractor Requirement 
Power Requirement (kw/hp)
37/50
PTO Speed
540
PTO Type
Single Wide Angle CV
Overrunning Clutch
Integral to PTO
Protection
Individual Radial Pin Clutch on each Rotor
Tractor Attachment 
Hitch
2pt Semi-Mounted Category 2
Special Hitch Pin
NR
Operational 
Rotor Articulation System
3D
Num. Rotors
2
Num. Arms / Rotor
11 Right / 11 Left
Num. Tines / Arm
4
Tine Arm Diameter (mm/in)
35/1.4
Tine Arm Attachment to Gearbox
2 bolts
Tine Arm Removal for Transport/Storage
Lynch pin
Tine Diameter (mm/in)
9/0.4
Front Swath Board
Standard w/ Central Swath Board
Rear Swath Board
N/A
Swath Board Adjustment/Folding
Hydraulic Folding for Transport
Height Adjustment
Mech Hand Crank Adjustment
Rotor Headland Clearance (mm/in)
-
Removable Tine arms/ Folding Guards
Standard
Undercarriage Tires/Wheels
16x6.5-8 PR6
Axle
Dual Nose wheel / Single rear Optional Tandem Axle Kit
Hyd. Requirements
1 Single Acting
Chassis Tires/Wheels
10.0/75-15.3
Rear Wheel Steering
Standard
Max. Turning Angle
85 deg
Safety 
Transport Lighting
Standard
Transport Safety Chain/Hitch Check Chains
N/A
SMV Emblem
Standard
Electrical/Lighting 
Transport Lighting Requirement
ASAE 7 Pin
Electrical Requirements
NA
Operating Speed 
Operational Speed
8-14 k/h / 5-8.5 mph