New Holland Discbine® 310 (Chevron Rubber)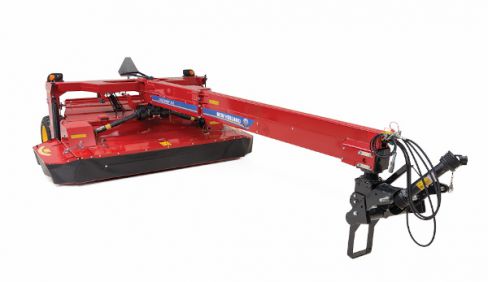 Double tap to zoom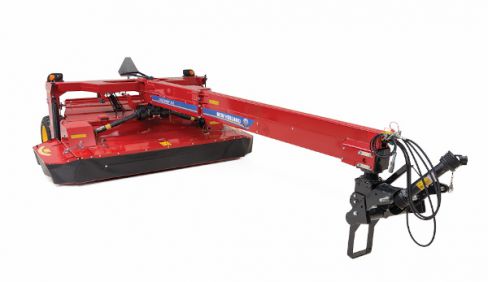 Features
LOW, SMOOTH CUTTING
The new low-profile disc cutterbar cuts low and clean, resulting in uniform stubble height, even in light grasses, or tough and tangled crops.

CENTER-PIVOT MANEUVERING
Mow right or left or any way you like with the productive, center-pivot design.

LOW POWER REQUIREMENT
You get the big productivity of 10' 4'' and 11' 6'' cutting widths with a mere 80 or 87 PTO horsepower.

EFFECTIVE CONDITIONING CHOICES
Choose the best conditioning system for your crops – chevron rubbers rolls or the all-new Y-tine flail system.
Specifications
| | |
| --- | --- |
| Discbine® 310 (Chevron Rubber) |   |
| Cutterbar |   |
| Cutting width ft. in. (m) | 10' 4" (3.15) |
| Cutterbar type | Low profile disc cutterbar |
| Number of discs | 8 |
| Knives per disc | 2 |
| Tilt angle degrees | 0-9° |
| Flotation | Top Safe cutterbar angle & vertical movement |
| Theoretical cutting height in (mm) | 1-3.9 (25-100) |
| Cutting height w/opt. high-stubble shoes in (mm) | 2.2-5.1 (55-130) |
| Roll Conditioner |   |
| Type | Chevron Rubber Roll |
| Width ft. (m) | 8.25 (2.51) |
| Drive method | Belt driven, synchronized roll drive |
| Speed rpm | 970 |
| Conditioner roll tension adjustment | Spring Tension |
| Conditioner gap adjustment | Adjustable, stop bolt |
| Steel Y-Tine Flail Conditioner |   |
| Type | - |
| Drive method | - |
| Speed rpm | - |
| Conditioner gap adjustment | - |
| Crop discharge |   |
| Swath width ft. (m) | 6.5 (2.0) |
| Windrow width ft. (m) | 4-6.5 (1.2-2.0) |
| Driveline |   |
| PTO shaft spline/size | 1 3/8- 21 Spline |
| Input speed rpm | 1000 (only) |
| Drive protection | Combined Friction Slip & Overrunning Clutch Assembly |
| Tongue |   |
| Type | Center Pivot |
| Hitch type | 2-point semi mounted swivel hitch attachment, Category II Only (Not quick hitch compatible) |
| Tractor Requirements |   |
| Minimum PTO power requirement hp (kw) | 82 (60) |
| Hydraulic circuits required | 1 SA, 1 DA |
| 3-pt. hitch category | Category II, Three-point |
| Tires | 380/55-17 Tubeless Ag Rib Implement Tires |
| Transport speed mph (kph) | 20 (32) |
| Dimensions |   |
| Width transporting ft. in. (m) | 9' 10" (3.0) |
| Width operating ft. in. (m) | 16' (4.9) |
| Length transport ft. in. (m) | 19' 7" (5.96) |
| Height transport ft. in. (m) | 6' 5" (1.95) |
| Ground clearance with head fully raised in. (mm) | 19 (481) |
| *Weight lbs (kg) | 5290 (2400) |