New Holland BigBaler 340 High Density CropCutter® Rotor Cutter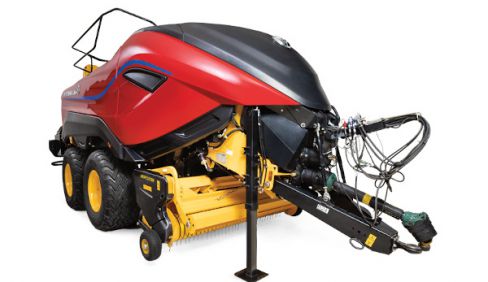 Double tap to zoom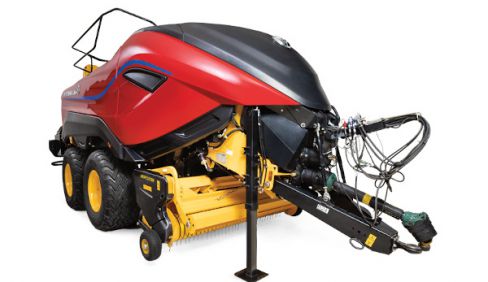 Features
HIGH-DENSITY PERFORMANCE
BigBaler 340 High Density balers can deliver up to 22% higher-density bales than other conventional large square balers, and up to 15% more when compared to BigBaler 340 PLUS models.
SMOOTH BALER ENGAGEMENT
Exclusive SmartShift™ gearbox features two-speed start-up technology for smooth baler engagement while protecting the tractor's driveline.
HYDRAULIC AXLE SUSPENSION
Provides excellent ground following ability and superior accessibility underneath the baler.
STRONGER KNOTS
Patented Loop Master™ knotter system increases overall bale tensile strength up to 26% for lower operating costs while eliminating twine offcuts.
Specifications
| | |
| --- | --- |
| BigBaler 340 High Density CropCutter® Rotor Cutter |   |
| Bale Dimensions |   |
| Width in. (cm) | 47 (120) |
| Height in. (cm) | 35 (90) |
| Minimum / Maximum length in. (cm) | 39 / 118 (100 / 300) |
| Tractor Requirements |   |
| Minimum PTO power hp(hp) [kW] | 250-270 (186-201) |
| PTO speed / type | 1000 rpm / 20 spline shaft |
| Hydraulic remotes |  2 x double acting 1 x single acting -  2 double acting + load sensing power beyond port* |
| Main Drive |   |
| SmartShift™ two-speed powershift gearbox - Two-speed / lower torque start-up | Standard |
| SmartShift™ two-speed powershift gearbox - Smart brake plunger technology | Standard |
| SmartShift™ two-speed powershift gearbox - Overload protection | Standard |
| Flywheel diameter in. (mm) | 42.5 (1080) |
| Flywheel weight lb.(kg) | 714 (324) |
| Super-duty main gearbox - Enclosed sextuple reduction gearing | Standard |
| Super-duty main gearbox - Twin drive gears turning the main ouput gear | Standard |
| Main gearbox type input speed (rpm) | 1440 |
| 5 Bar MaxiSweep™ Pick-up |   |
| Width (DIN 11220) ft. (m) | 7.7 (2.35) |
| Roller windguard | Standard |
| Feed assist auger - chain driven | Standard |
| Feed assist auger - hydraulic driven | Optional |
| Number of double tines | 85 |
| Tine diameter in. (mm) | 0.2 (5.5) |
| Flotation | Adjustable spring |
| Removable gauge wheels | Standard |
| Removable castering gauge wheels | Optional |
| HD 15x6.00-6 gauge wheel tires | Standard |
| Pick up slipclutch protection | Standard |
| Packer Feeding System |   |
| Feeder | - |
| Feed assist auger | - |
| CropCutter® System |   |
| Number of knives | 29 |
| Theoretical cut length in. (mm) | 1.5 (39) |
| Full access, slide-out knife drawer | Standard |
| Knife activation, in - out | Hydraulic |
| Knife blanking plates & storage | Standard |
| Hydraulic drop-floor slug release | Standard |
| Spring-loaded knife protection | Standard |
| Hard-faced rotor | Standard |
| Rotor protection | Standard |
| Pre-Compresstion Chamber & Stuffer |   |
| SmartFill™ II system | Standard |
| Stuffer activation | Automatic charge sensing |
| Stuffer mechanism | Fork with 6 tines |
| Stuffer drive | Oil-bath gearbox |
| Stuffer speed | up to 48 cycles per minute |
| Stuffer protection | Shear bolt (M10x90) |
| Plunger |   |
| Speed Strokes/min | 48 |
| Length of stroke in. (mm) | 29 (748) |
| Tying System |   |
| Loop Master™ double knot type | Standard |
| Twine type | 100-130 m/kg grade |
| Number of twines | 6 |
| Knotter fan type | Electric |
| Number of knotter fans | 3 |
| Knotter engagement system | Electronic |
| Knotter function alert | Monitor and knotter flags |
| Knotter lubrication | Grease / Autolube |
| Twine ball capacity | 36 XL |
| Hydraulic foldable twine boxes | Standard  |
| Bale Density System |   |
| Operation | Manual or automatic density |
| Number of cylinders | 7 double acting cylinders |
| Hydraulic system type | Proportional controlled |
| Precision Farming Solutions |   |
| ISOBUS Class III with AEF Certification | Standard |
| ISOBUS compatible for Virtual Terminal - less display | Standard |
| IntelliView™ IV color touchscreen display | Optional |
| ISOBUS III IntelliCruise™ System | Optional |
| ActiveWeigh™ Bale Weight System | Optional |
| Moisture sensing - rub pad | Optional |
| Moisture sensing - star wheel | Optional |
| PLM GPS data logging | Optional |
| CropSaver™ Crop Preservative Applicator | Optional |
| Camera monitoring system | Optional |
| Lights |   |
| Front & rear road & signal lights | Standard |
| 1 x Rotary beacon | Optional |
| 2 x Rear work lights | Standard |
| LED Strip needle light | Standard |
| LED Strip pickup light | Standard |
| LED Strip knotter lights | Standard |
| LH/RH - LED twine box lights | Optional |
| LH/RH - LED stuffer lights | Optional |
| Axles, Tires & Wheels |   |
| Large wheel tandem axle | Standard |
| Hydraulic adjustable suspension | Standard |
| Maximum steering angle | 14° |