New Holland 750SFI Corn header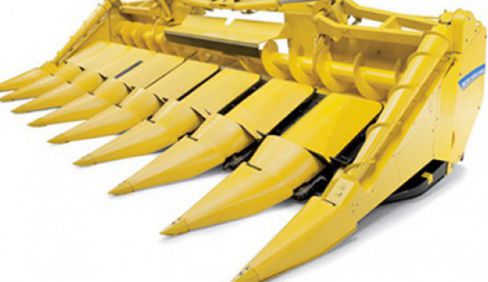 Double tap to zoom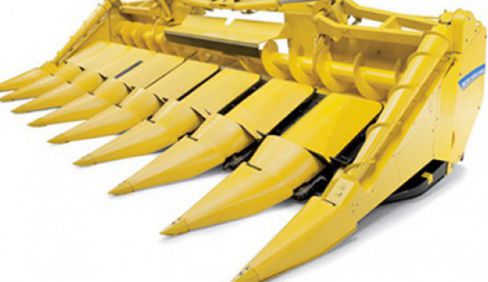 Features
GRASS HEADERS
OUTSTANDING PERFORMANCE IN HAY
With the all-new 380FP hay pickup, you'll get smooth, slug-free feeding fom the first windrow to the last.
SMOOTH FLOW GUARANTEED
The new heavy-duty roller windguard option helps guarantee a smooth, even flow of crop into the feed auger, eliminating any slugs which could lead to plugging. It can be easily adjusted to work with different size windrows. When the feedrolls are reversed, the windguard is automatically raised along with the auger so crop can back all the way out of the header.
SUPER-FAST PICKUP
Pickup reel speed has been increased vs. prior models for cleaner crop pickup. New reels feature five HD tine bars with heavy support bearings for greater durability and clean-sweep performance. Pickup bands are reinforced to handle heavy windrows without fail, and new internal tine guides prevent damage when the header is reversed.
CORN HEADERS
ROW-INDEPENDENT CORN HEADERS
Choose one of six row-independent corn heads to meet your operation's size requirements. The 8 and 10 row headers are available in both small and large drum options depending on operator preference. Tungsten carbine coated saw blades self-sharpen while tearing through crop to reduce gearbox wear over the life of the header.
ROW GUIDANCE
Corn headers can be specified with row guidance to keep your FR perfectly on course. Two sensors continuously monitor the position of the crop entering the header, and automatically guide the machine to ensure true perpendicular entry even in poor visibility or at high speeds.
REDUCE ROT-DOWN TIME WHILE INCREASING TIRE LIFE
The FI series headers are designed to leave the field clean. Special cleaners on the cutting discs also damage the stalks to speed rot-down while protecting tires from stubble damage.
SHORT ROTATION COPPICE HEADER
WOODY BIOMASS PRODUCTION READY
This header transforms the FR Forage Harvester into a single pass, cut-and-chip harvesting system for short-rotation woody crops. The resulting woody biomass is used for the production of biofuels and traditional wood and fiber products. Large, quarter-inch-thick, high speed, carbide-tipped saw blades cut cleanly and quickly through tree trunks. Next, two slow-turning vertical gathering towers feed the severed trunks into the horizontal rolls that, in turn, feed the trunks butt-end first into the massive cutterhead. In addition to working faster than other harvesting methods, the 130FB also leaves clean stubble for maximum regrowth.
ADAPTABLE ATTACHMENTS
ADDITIONAL OPTIONS
In addition to all of the purpose-built headers provided for New Holland forage harvesters, additional headers can be adapted to fit the FR to customize your harvesting experience. Talk to your local dealer for more information about how to unlock your FR's true potential.
HEADER ATTACHMENT
You can quickly and simply attach a dedicated module to the front of the FR harvester to ensure 100% compatibility with combine corn and grain headers. The additional feedroll ensures efficient crop flow over the extra distance for sustained performance and ultimate flexibility.
WHEN ONLY CORN EARS ARE NEEDED
If you want to use earlage to finish valuable beef cattle or as part of a dairy ration, you can fit a New Holland combine header to your FR harvester with a simple adapter kit. Compatible models are available in 6- to 12-row configurations and with or without stalk chopping capability.
Specifications
| | |
| --- | --- |
| 750SFI Corn header |   |
| Working width ft (m) | 25 (7.5) 25 |
| Number of rows | 10 |
| Disc type | Small |
| Row guidance | Optional |
| Automatic floatation | Optional |
| Spout extension | Optional |