Massey Ferguson 7S.180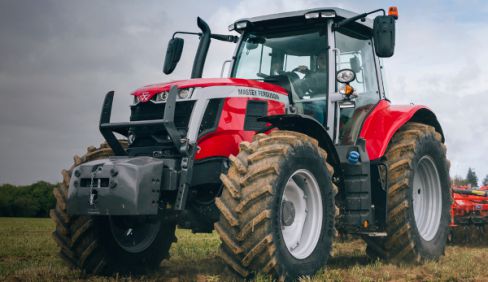 Double tap to zoom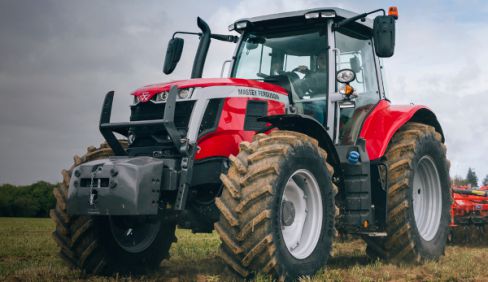 Features
Power
Designed to deliver more efficiency with lower operating costs.
AGCO POWER ENGINE:  Our proven 6.6-liter, six-cylinder AGCO Power engine drives the MF 7S Series. It employs our exclusive, most advanced "All-In-One" aftertreatment system to meet emission regulations.
POWER CONTROL:  The Power Control lever provides convenient three-in-one, straightforward operation. Operators can shuttle between forward/reverse, shift Dynashift speeds or ranges, and select neutral, leaving the right hand free for other tasks, like loader operation.
DYNA-6:  Delivering class-leading dynamic performance and reliability, the semi-powershift transmission consists of six Dynashift ratios, optimally stepped in four ranges.
HYDRAULIC FLOW ON DYNA-6:  Massey Ferguson 7S Series tractors specified with Dyna-6 Super Eco transmissions are equipped with a 29 gal/min load sensing hydraulics as standard and an optional 39 gal/min.
DYNA-VT:  Stepless transmission offers complete operator comfort and optimum fuel efficiency. The new automatic mode enables operators to adjust forward speed while automatically regulating engine speed according to load and speed.
HYDRAULIC FLOW ON DYNA-VT:  For a dynamic hydraulic response, MF 7S Series equipped with Dyna-VT has a 29 gal/min closed-center load sensing system as standard and an optional 50 gal/min.
ENGINE POWER MANAGEMENT — 30 HP BOOST:  Engine Power Management (EPM) enables up to a 30 HP-plus power boost, plus extra torque, when required.
AIRFLOW SYSTEM:  An optimized airflow system improves engine cooling, increasing performance and efficiency.
MULTIPAD — CONTROL AT THE PALM OF YOUR HAND:  The MultiPad lever operates the transmission as well as controls cruise control, rear linkage, PTO, headland management and spool valves through the integrated mini joystick. It's customizable yet intuitive, offering control like never before.
AUTOMATIC MODE:  Automatic mode takes care of upshifts and downshifts, maximizing versatility and output. The response point is adjustable according to desired engine rpm.
BRAKE-TO-NEUTRAL:  The optional Brake-to-Neutral switch operates the clutch as soon as the brake pedal is pressed. This eases load on the operator, while increasing efficiency and convenience — particularly useful for loader operations.
SUPER CREEP:  Super Creep gears enable ultimate control in low-speed tasks, with forward speeds as low as .02 mph.
SUPER ECO:  The Super Eco feature helps cut costs, with maximum speed achieved at a very low engine speed to save fuel (25 mph @ 1500 rpm, 31 mph @ 1800 rpm, depending on tires).
Performance
With the Massey Ferguson 7S Series, the engine, transmission, steering, PTO and hydraulics work together in unison, ensuring optimum efficiency in all phases of operation.
HIGH-CAPACITY REAR LINKAGE:  Offering a capacity of up to 21,164 pounds, the linkage can be equipped with up to five spool valves, which come with decompression levers for easy removal.
INDUSTRY-LEADING ELECTRONIC LINKAGE CONTROL:  Electronic linkage control (ELC) provides precise and responsive control of draft functions to accurately maintain the working depth for soil-engaging implements, as well as the position of mounted equipment.
ACCURATE DRAFT CONTROL:  Our digital ELC system brings incredible draft control with more accurate depth settings and better ground contour following.
SPOOL VALVE OPTIONS:  A wide choice of spool valves and control options help you make the most of modern implements. Depending on your tractor's specification, you can specify up to eight spool valves.
FRONT LINKAGE:  Up to 8,818 pounds lift capacity. A heavy-duty Integrated Front Linkage System (IFLS) is available as an option and is designed to match the front suspension.
A WIDE CHOICE OF PTO OPTIONS:  PTO options are available, with standard PTO speeds delivered at 2000 engine rpm — its maximum power rating. All options benefit from a "constant power" band of up to 1500 rpm.
FRONT PTO SYSTEM:  A 1000 rpm front PTO is available. Combined with the front linkage, it allows a wide range of additional implements to be powered, reducing passes and improving efficiency.
Productivity
113.4-INCH WHEELBASE:  The long wheelbase ensures superior traction, while optimal weight distribution of nearly 50:50 provides reassuring stability.
CONTINUOUS DAMPING CONTROL:  The Continuous Damping Control (CDC) system employs a pair of active mechanical dampers that constantly monitor driving conditions to provide unmatched ride comfort.
QUADLINK 2 SUSPENSION SYSTEM:  All models benefit from the Quadlink 2 suspension, boosting comfort levels for the operator and overall machine maneuverability. The combination of two cylinders and three accumulators delivers an extremely comfortable ride for the operator.
ACTIVE TRANSPORT CONTROL:  When driving across the headland or transporting heavy mounted equipment, implement "bounce" can occur. Active Transport Control is a shock-absorbing system that minimizes the "pitching" action — automatically adjusting for different implement weights.
SPEEDSTEER:  SpeedSteer enables the operator to adjust the steering ratio and select the number of turns of the steering wheel required for a given amount of steering angle turns.
MANEUVERABILITY:  The MF 7S Series tractors offer a market-leading turn radius (16.2 feet). This greatly improves productivity when turning on the headland, during loader operations and negotiating narrow roads.
WIDE CHOICE OF TIRES:  All models are available with a wide choice of 42-inch tires for the best traction capacity while minimizing soil compaction.
GROSS VEHICLE WEIGHT:  MF 7S Series can have a gross vehicle weight up to a market-leading 30,865 pounds.
Comfort
Designed around you, the farmer, to help you get the job done faster, more efficiently and more comfortably.
ERGONOMICS:  Operators will find everything they need carefully arranged. The new armrest, which moves with the seat, offers easy access to all the main functions, including quick and convenient controls for the Bluetooth phone and radio.
NEW DASHBOARD:  Operators will appreciate the slim new dashboard. This clearly displays operating data on its 2.75 inch by 2 inch color "Setup and Information Screen" (SIS), which provides quick and easy access to a range of useful information.
VISIBILITY:  Work smarter with implements and have a better on-road experience with 360-degree cab visibility.
EASY AND SECURE ACCESS:  A large and wide door, steps, rails, and tiltable steering column provide best-in-class accessibility to the cab.
WORKING LIGHTS:  The optional addition of 16 LED working lights transforms night into day. This package also includes daytime running LED signatures, enhancing an already attractive design.
DESIGN:  The face of the new MF 7S Series captures and holds your attention. At its center is the iconic MF Triple Triangle logo, around which flows the powerful shape of the MF bar lights and the new MF gray saber.
Operator Environment
The cabs of the Massey Ferguson 7S Series tractors provide an environment that counters stress and fatigue, providing unparalleled comfort, simplicity and visibility.
CLASSIC VERSION:  Classic is the entry-level package for the MF 7S Series. It includes all the key elements you would expect, with a blend of simplicity, ease of use and versatility to suit applications that require additional power and performance.
DELUXE VERSION:  The Deluxe package enables you to work faster, to a higher standard, with more accuracy, together with high levels of comfort, ergonomics and reliability.
Farm Management
The on- and off-board technology solutions incorporated into the MF 7S Series are a clear indication of the pace of progress and innovation set by Massey Ferguson. We pride ourselves on being unbeatable when it comes to ease of use, improved productivity and profitability through higher yields, lower inputs costs, and greater profits.
DATATRONIC 5:  The intuitive Datatronic 5 touch-screen terminal manages tractor functions and allows complete control of all ISOBUS-compatible implements.
FIELDSTAR 5:  Fieldstar 5 terminal creates a more intuitive precision farming experience. It provides a straightforward and easy-to-use experience for improved efficiency, productivity and profitability.
MF GUIDE:  MF Guide is our full-featured, hands-free steering system, available on new tractors or as an after-market installation. It delivers unmatched accuracy, increasing the efficiency of your farming.
MF SECTION CONTROL:  With fully automatic Section Control for ISOBUS implements, operators can apply seeds, fertilizer or crop protection products without overlap.
MF CONNECT:  MF Connect service enables you — and your dealer — to coordinate, optimize and seamlessly connect your fleet to better manage maintenance and remotely monitor equipment in the field.
MF TASKDOC:  The MF TaskDoc system empowers farmers to become more productive by putting precision-measured data at the business owner's fingertips.
Specifications
| | | | |
| --- | --- | --- | --- |
| MODEL | 7S.180 | 7S.190 | 7S.210 |
| MAX POWER (HP) | 180 | 190 | 210 |
| MAX POWER-EPM2 (HP) | 210 | 220 | 22 |
| ENGINE | AGCO Power 6.6 L, 6 cylinder SCR | AGCO Power 6.6 L, 6 cylinder SCR | AGCO Power 6.6 L, 6 cylinder SCR |
| TRANSMISSION | Dyna-VT, Dyna-6 | Dyna-VT, Dyna-6 | Dyna-VT, Dyna-6 |
| MAX TORQUE (FT./LBS.) | 634 | 682 | 682 |
| LIFT CAPACITY (LBS.) | 21,164 | 21,164 | 21,164 |