Massey Ferguson WR9980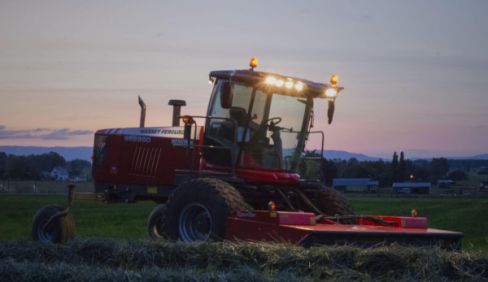 Double tap to zoom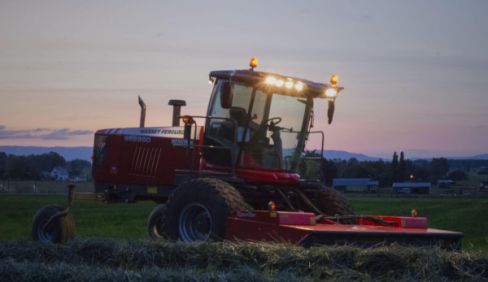 Features
INNOVATION
On-Board Computer Terminal - All main operations, including in-cab conditioner roll pressure adjustment, are controlled via a virtual on-board computer terminal for enhanced precision and better control.
C1000 or C2100 Monitors - Available in two different monitors, the C1000 or C2100, with a new user-friendly interface, making it easy to monitor windrower performance and adjust settings to field conditions.
A Smarter Windrower - Proprietary software on the WR9900 Series allows a variety of components to communicate electronically and execute many functions automatically.
Auto-Header Speed Control - If engine RPMs are pulled down when cutting high-yielding areas in the field or navigating steep terrain, tractor maintains consistent disc header RPM for consistent cutting and conditioning.
Exclusive Rearsteer - The industry-exclusive RearSteer™ option provides windrower steering from the rear axle, improving operator comfort, handling and road transportation. The 24.5 mph speeds let you move faster without reversing travel direction.

PERFORMANCE
Header Flexibility - The WR9900 Series gets new, more capable headers — the 9300 Series disc and 5400 Series draper. Improved capacity and greater control lead to higher productivity while maintaining superior cut and windrow formation.
High-Performance Engines - The WR9950 and WR9960 are powered by the AGCO Power 4.9L four-cylinder engine.
High-Performance Engines - The WR9970 and WR9980 are powered by the AGCO Power 7.4L six-cylinder engine.
Advanced Cooling System - The V-Cool™ system offers greater cooling and fuel efficiencies along with auto-reversing air direction for maintenance-free self-cleaning.
More Powerful Hydraulics - Our new hydraulic drives provide increased performance and productivity. The hydraulic drive pump handles additional power from the engine and delivers more flow to the header for increased throughput.
Dual Hydraulic Hookups - Combined with the new tandem hydraulic drive, dual hydraulic hookups provide additional power, functionality and control.

COMFORT
A Roomy, Spacious Ride - The new, larger VisionCab™ offers many additional features to surround you with the ultimate comfort, allowing you to work longer and smarter with less fatigue.
Windrower Visibility - The high-visibility, rounded front windshield provides an unobstructed view of all surroundings, including the header. And a sun visor ensures you're always working in maximum comfort.
Air Ride Seat - Now standard, offering operators a more robust seat and a much smoother ride. The optional deluxe leather seat includes heating and ventilation as well as a leather instructor's seat.
Oscillating Gliderider™ - The suspended rear axle system absorbs the bounce and shock of rough terrain for increased operator comfort.
More Lighting For Better Visibility - Features eight front-mounted and two rear-mounted lights, providing operators with greater visibility in low light conditions. LED lights are also optional with even greater visibility.
Specifications
| | |
| --- | --- |
| Model | WR9980 |
| Rated HP (KW) | 265 (198) |
| Max HP (KW) | 282 (211) |
| Engine | AGCO Power 6-cyl, 7.4L |
| Headers | Disc (13', 16') Draper |
| Weight (Approx.) w/o Header lbs. (kg) | 11,420 (5,180) |