Land Pride DH3512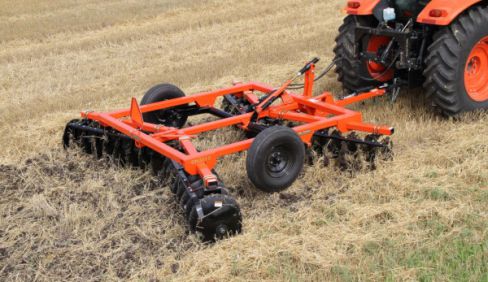 Double tap to zoom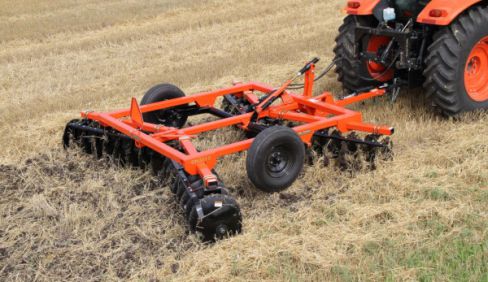 Features
FEATURES
BENEFITS
Two working widths and
several models to choose from
Designed to meet the operational and geographical needs of our customers.
Pull-type clevis hitch attachment
Allows easy one person attachment to a wider range of lower priced new or used utility tractors.
High weight per blade concentration
Makes for easier disc penetration.
Heavy duty carrier frame and tongue construction
Provides for years of dependable service and performance.
Single pin release and lock on five position gang angling front and rear
Makes gang adjustments for less or more aggressive tillage an easy task.
Notched or smooth disc selection in 20" or 22" disc sizes
Lets customers choose a configuration that's just right for their tillage task.
Greasable triple sealed disc bearing
Provides for ease of service and longer bearing life.
Large transport tires with option of adding two more
Provides capability of road and field transport over tough surface conditions.
Hydraulic depth and transport control
Goes from working to transport position and back again with easy single tractor hydraulic control lever manipulation.
Front to rear leveling system
Provides uniform front to rear disc gang penetration.
Optional dirt Scrapers
Keeps discs from balling up with sticky mud.
Optional 18" and 20" furrow filler blades
Provides for more uniform finish on multiple pass applications.
Optional center sweep kit
Provides more consistent uniform finish between gangs.
Optional tongue jack
Assures easier hitch attachment to tractor.
2 Rear disc choices
Choose Notched or Smooth rear discs to achieve your desired finish.


Specifications
| | |
| --- | --- |
| Model Numbers | DH3512 |
| Drawbar horsepower requirement | 55-100 hp |
| Weight with 20" discs on 7 1/2" spacing & no other options | 2,747 lbs. |
| Hitch type | Pull-type w/clevis & hole for 1 1/4" pin |
| Hitch frame construction | 3"x 3" x 1/4" Wall tubing w/hose carrier and park jack mount |
| Transport width | 12'-4" Base unit |
| Max. cultivation width | 12'-0" Approx. |
| Mainframe Width | 93" |
| Approx. weight load on each blade with 7.5" spacing | 76 to 82 lbs. |
| Approx. weight load on each blade Blade with 9" spacing | 81 to 86 lbs. |
| Disc blade sizes and types | 20" or 22" Notched or smooth |
| Disc blade spacing | 7.5" or 9" |
| Disc bearing type | Greasable & triple lip sealed ball bearings |
| Number of bearings | 12 For 9" disc spacing 16 For 7.5" disc spacing |
| Forward gang angle adjustment | Single pin adjustment to 15, 16 1/2, 18, 19 1/2, or 21 degrees |
| Rear gang angle adjustment | Single pin adjustment to 12, 13 1/2, 15, 16 1/2, or 18 degrees |
| Side mainframe construction | 3" x 4" x 3/16" Wall tubing with gusset reinforcements |
| Mainframe front tube | 5"x 3" x 1/4" Wall tubing |
| Center gang beam construction | 4"x 3" x 1/4" Wall tubing |
| Gang swing arm | 4"x 3" x 1/4" Wall tubing |
| Gang axle construction | 1 1/8" Square hi-strength steel |
| Front to rear leveling system | Manual crank adjustment |
| Depth control | Cylinder stroke control spacers |
| Hydraulic cylinder for depth/lift control | 3"x 8" Hydraulic cylinder with hoses and fittings |
| Transport tires & rims | Two 9.5L x 15 tires mounted on 15" x 6" 5-bolt rims |
| Disc scrapers | Optional |
| Center sweep kit | Optional |
| 20" Rear furrow filler pair | Optional |
| 18" Rear furrow filler pair | Optional |
| Park Jack | Optional |
| Dual wheel transport kit | Optional |